GIANCARLO TAGLIABUE
Giancarlo's life is linked to aesthetics and knowledge of art, to the sense of beauty, to the harmony of proportions, from the attention to detail to the taste for external perfection, representing all his ideas through a critical tool such as design.
The Art School of Cantù, (Como), "cradle" of know-how and the Politecnico University of Milan, the international center of design, are the places where Giancarlo lays the foundations of his specialization: Furniture, Industrial Design, Design Architectural and Technological graduating in 1996.
This passion for drawing and the time spent between workshops and construction sites allows him to stay in constant contact with the entire production proce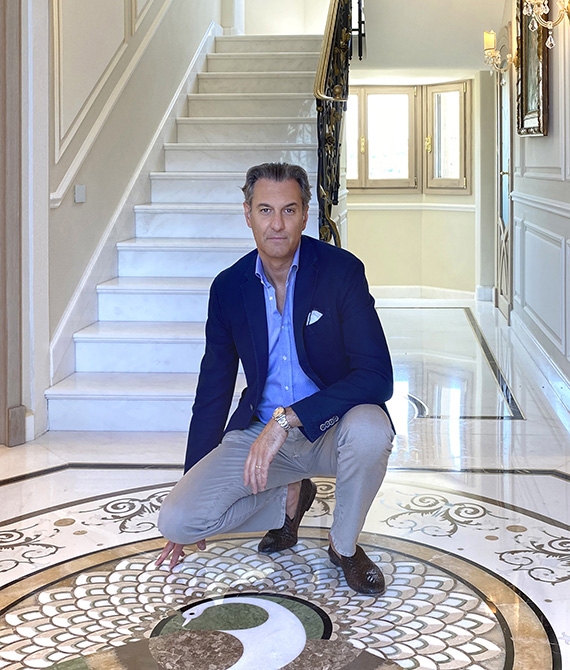 "Every person should live in a space in wich, through beauty and empathy, can be emotionally involved by a subliminal feeling in which the user is driven to identify. Our houses are wath we are"

Over the years Giancarlo has expressed himself in increasingly important projects, both in Italy and abroad, starting with villas and private apartments up to more complex buildings such as hotels, palaces and castles, always driven by an innate passion for beauty.
Collaborating as a consultant with architectural ateliers and important classic design companies, Giancarlo deepens his competence and dedication for historical styles, from the Renaissance to the Baroque, from the Rococo to the Empire passing through the Neoclassical, up to Art Deco and Contemporary, without ever neglecting the innovative aspect.
In 2000 he founded his company, GTArchitects, established in the metropolitan area of ​​Milan.
He develops architecture, interior decoration, design and research by combining a creative pragmatism with the world of luxury, always keeping an eye on the environment and sustainability.
Through over 25 years of experience, Giancarlo creates many projects, private and public, in different continents such as Europe, Central Asia, the Middle East, the Far East, Africa and the United States.
"HIS DESIGN HAS ALWAYS BEEN A TIRELESS PURSUIT OF PERFECTION"